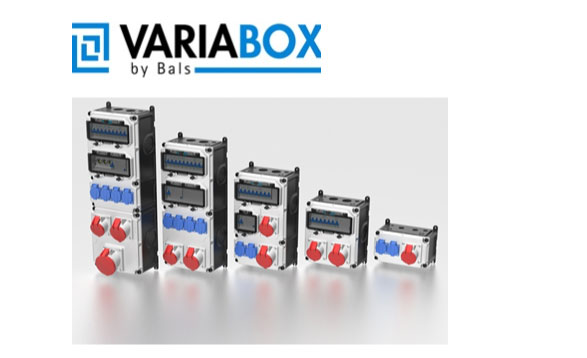 VARIABOX, the new generation of distributors from Bals
The standard for variable and safe distributor housings One for all: the new VARIABOX from Bals, which will be presented for the first time at light+building 2012, meets all requirements for a modern distributor housing and can be individually configured in five different sizes. With versions S, M, L, XL and XXL, we have the right distributor for every user.
Configuration is done according to individual specifications on the basis of predefined, encoded flange plates. With their robust design in a high-grade and durable, quality plastic, their good seal and many innovative extra features, the new VARIABOX proves itself even under adverse conditions, up to a protection rating of IP 67.
With VARIABOX, a wide variety of new developments from Bals are used for the first time:
The operating window is equipped with the innovative OTC mechanics (one touch close). The OTC window with 4-, 6- or 10-module design is opened vertically upward and automatically locks into place when completely opened. Touch lightly and the window again closes automatically and securely locks by means of a pre-tensioned spring mechanism. The advantage for the user: all maintenance and inspection work can be comfortably performed with both hands. The fact that the flap opens upward prevents dirt from penetrating the housing during the work.
In combination with the flange plates for the various housing sizes, Bals has developed a new coding system that sets standards in reliability.
Radial seals on the attachment parts ensure that the seal is maintained even if plugs and sockets are pulled out and plugged in many times or in the event of repetitive vibrations.
The hinged top facilitates not only easy connection of the supply cable, but it also ensures that the sealing edge cannot be damaged when the top is opened.
Multiple VARIABOX distributors can be quickly and efficiently combined with one another in the modular system.
The mounting rails can be pulled forward, thereby allowing even long connection lines to be handled with ease in the terminal compartment.
Social Share